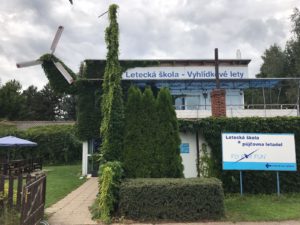 About me:
My name is J.Ewout Wolthers. In the daytime I work as ground instructor and
examiner at a major Flight School in theNetherlands. Momentarily I can accommodate approximately or 2 students per 6 weeks and work with them on Skype in the evenings or sometimes weekends. In one or two years I will work part-time and can train more students.
Look me up at linkedin.
Training and Preparation
Study the Phraseology section of the Czech VFR guide. Also, you need some flying experience and theoretical knowledge of Air Law, ATC procedures and Communications VFR before you start.
The training is done using Skype in the evenings on weekdays, sometimes in the week-end. From the second half of 2018 also on certain weekdays.
For the first part of the VFR training, we practice flights within PRAHA FIR, using the airfields/airports Karlovy Vary, Vodochody and Ruzne. I use the Cz VFR Manual and the students should study the PRASEOLOGY part of that VFR manual before the course and PRINT or download the pertinent CHARTS! They are free of charge.
Get your charts etc. from:    VFR Manual – Czech Republic
For the RT PHRASEOLOGY section go to VFR-ENR 6-1.
Training Lessons Required:
Depending on your level of experience and learning aptitude anything between 4-8 sessions usually. Exceptions are possible.
Moreover, although you will not be doing your flight Training there (yet), you need to know the RT procedures and phraseologies to use at (ATC) controlled airports : Taxi clearances, line up an takeoff clearances, Aerodrome circuit radio calls, Arrivals departures, diversions, Q-codes etcetera.
Course materials Radio Telephony in English.
VFR
RT Guides :
1.  RTF Guide
2.  CAA Leaflet 22 Radio Telephony
3.  SYLLABUS RT Communications Air-Comms VFR English
IFR
COMPULSORY:
ATPL/IFR RT Guide
RECOMMENDED
1. Download this app with Dutch Airspace:  //www.pocketfms.com
The Exam/Test
Please Note that these examination results are accepted in the Netherlands and in the Czech Republic because the Czech Republic CAA does not offer RT Voice Examinations in the English language.
The Communications RT voice examination is for an international licence in fact, and the simulated flights for the examination will take place within the Netherlands.
The exam done over Skype. You must have a good broadband Internet connection.
The audio of the conversation will be recorded as proof to the Authorities.
When someone passes the practical voice exam/test he or she will get the official signed Air-Comms Training Certificate as a scan by e-mail and I can send a signed hard copy version by post to the school or to yourself. This Certificate must, in the Czech Republic be produced to the Telecom bureau by the pilot to demonstrate one passed the exam. Air-Comms has no further part in that!
Payment ( Lessons and Exam Fee)
The first 3 lessons  3x €50,00 = €150,00 must be paid in advance.
Note: Add € 10,00 International Bank charges per foreign payment, and € 5,00 for PayPal Payments
Make out all payments to:
Account Name:        
J.E.Wolthers  
Air-Comms Trainingen
IBAN:                        NL05 TRIO 0198 3568 97    
BIC (or SWIFT):       TRIONL2U                
Address:                   Amelterhout 82   ASSEN   Postcode 9403EG
Country:             
The Netherlands